By Sherri Buri McDonald
The Register-Guard
MAY 15, 2016
---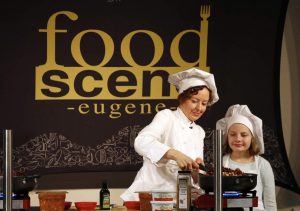 Portland has the long-running Bite of Oregon. Bend has the Bite of Bend. Ashland has the Ashland Culinary Festival.
But for years, Eugene had nothing.
That's all changed with the launch of Food Scene Eugene, a food and drink festival that drew hundreds to Lane Community College on Friday and ­Saturday.
Organized by LCC culinary arts and hospitality management students, Food Scene Eugene aims to be an annual event.
Each day about 250 to 300 people attended the festival, which offered a smorgasbord of samples from local restaurants, food vendors and beverage makers; cooking demonstrations; workshops on such topics as how to make tamales or pair food and wine; and contests for LCC culinary arts students, professional chefs and mixologists.
"We're so proud of our turnout this year for an inaugural year," said Shelly Kane, Lane Catering's marketing and community relations coordinator and Food Scene Eugene spokeswoman. "It's a huge success."
"We're featuring and sending a mixologist and Iron Chef to Portland to compete," Kane said. "Eugene didn't have a (consistent) presence before. Now we do, so we're excited to be able to compete at the state level."
Eugene Iron Chef winners Trevor Rivera and Josh Buckley of Marché and Eugene Master Mixologist Morgan Pharis of Board Restaurant will compete against Oregon's best at Bite of Oregon in Portland in August.
Eugene's event is distinct from others in the state because it is put on by college students, Kane said.
"We were looking for an event for our culinary arts and hospitality management students to plan and execute for the community that involved food," she said.
While researching food and drink festivals, they noticed that Portland, Bend and Ashland all had one, but Eugene didn't.
"One of our goals is to really highlight the talent we have out in the community because we have some amazing chefs, restaurants, breweries, vintners and food purveyors," Kane said.
"We wanted to connect the community to our food and drink purveyors and restaurants, as well as our students."
Four Iron Chef contestants mentored culinary arts students who competed in the student bite contest, she said.
About 15 second-year culinary arts students and five hospitality management students brought the festival to life, with help from sponsors LCC, Datalogic and McDonald Wholesale, Kane said.
Two student event managers have worked with Kane on the project since January, and the rest of the students have focused on it since March, she said.
"Our biggest challenge was time," Kane said. "It's been quite a bit of details to get accomplished in five months, but we have an amazing team."
The Iron Chef competition was a highlight for many people attending Saturday.
Competitors had 45 minutes to prepare and plate a meal using secret ingredients, which were revealed at the start of each of three heats.
The secret ingredients were flat iron steak and tamarind in the first round; rock fish and sumac in the second; and pork coppa and annatto seeds in the final round.
Tamarind is the sweet-sour fruit inside brown pods of the tamarind tree. Sumac is a spice with a tangy lemon flavor. Annatto seeds are commonly used for coloring cheddar cheese, but also are used in ­Caribbean cuisine.
"We had the chance to attend one round of the Iron Chef competition last year," spectator Nick Tabet said. "When we realized it was going to rain today, we thought what a great way to spend a day indoors."
Former Eugene resident Donna Hendrickson traveled from Portland to go to Food Scene Eugene.
"It's a great venue to get everyone together to do this," she said. "It brings awareness to Lane Community College's culinary program and all the great things they're doing for our community."
Hendrickson said she loves to cook and thought about attending Lane's culinary arts program, but ended up pursuing a dental career instead.
As competing chefs in the first heat scrambled to organize ingredients, chop vegetables, slice meat and cook their entries, spectator Denise Callahan commented, "We would not do well with this time constraint."
She and her husband, John, said they enjoy cooking, but they also enjoy dining out in Eugene.
"We're on the consumer side of the equation," John Callahan said. "We create the demand rather than the supply."
Follow Sherri on Twitter @sburimcdonald . Email sherri@registerguard.com .