Wouldn't it be nice to come home and not worry about "what's for dinner?" Chef Becky is your answer!!
---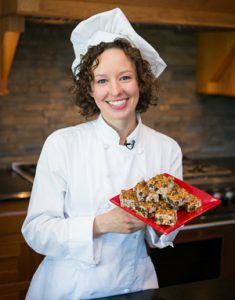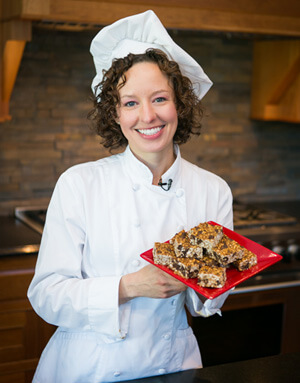 Every order is a custom order, so menu changes and ingredient substitutions are no problem. In a 20 minute telephone interview, I will learn the foods you love, and what you'd like to avoid. I'll ask about spices, vegetables, grains, meat, fish, etc. to learn exactly what you'd like.
You will receive a proposed menu for your review. If you would like any changes to the menu, I will suggest alternative dishes. Once the menu is agreed upon, I will prepare the meals in my licensed kitchen and deliver them directly to your home or office. The meals are packaged in oven and microwave safe containers, and labeled with instructions for reheating. All you need to do is heat the meal in the microwave or oven, and enjoy!!
---
Comfort Menu
Entrees:
Beer Brined Grilled Chicken
Skinless Chicken Breasts brined in Dark Beer and Spices, then rubbed with fresh Garlic and Sage (client favorite!)
Meatballs in Orange Tomato Basil Sauce
Seasoned Beef Meatballs baked in an Orange Tomato Basil Sauce on a bed of Noodles
Bordeaux Chicken with Mushrooms
Chicken in a rich Red Wine Tomato Sauce with Mushrooms and Bacon Bits accented with Balsamic Vinegar
Grandma's Meatloaf
Old fashioned meatloaf, just like Grandma used to make
Becky's Tillamook Mac & Cheese
Elbow macaroni with Special Reserve Tillamook Extra Sharp Aged Sharp Cheddar Cheese. Creamy and delicious!
Side Dishes:
Garlic Italian Bread
Italian Bread with Butter and Seasonings
Garlic Green Beans
Whole French Green Beans with Butter, sliced Garlic, and Parmesan Cheese
Blue Cheese Mashed Potatoes
Whipped Potatoes with Blue Cheese Crumbles and a touch of Butter
Classics Menu
Entrees:
Artichoke and Feta Cheese Stuffed Chicken
Tender Chicken breasts filled with a lightly herbed Feta Cheese and Artichoke stuffing
Salmon in Dijon Vermouth Sauce
Salmon filets covered with a sublime Mustard, Wine, and light Soy based sauce
Flank Steak Roll-ups with Spinach and Bacon
Flank Steak & Bacon Pinwheels with a flavorful Spinach, Thyme, and Lemon Pepper Stuffing (for your grill)
Pork Chops with Mustard Cream Sauce
Tender Pork Chops with a flavorful Coarse Mustard and White Wine Cream Sauce
Pork Tenderloin with Tomato Bacon Jam
Side Dishes:
Green Beans with Brown Butter Sauce
Whole Green Beans with a flavorful Butter sauce
Roasted Rosemary Potatoes
Roasted Red Potatoes with fresh Rosemary, Garlic, and fresh ground Pepper.
Glazed Carrots with Dried Cranberries
Baby Carrots in an Orange Juice and Cinnamon glaze with Dried Cranberries
Meat Lovers Menu
Entrees:
Beef in Mustard Sage Sauce
Steaks topped with a rich and flavorful Mustard and fresh Sage sauce
Cashew-Crusted Chicken Breasts
Cashew and Herb Crusted Chicken Breasts with a hint of Pineapple
Stuffed Mexican Shells
Large Pasta Shells stuffed with a Southwestern Beef mixture and topped with Cheddar and Jack Cheese
Honey-Lemon Pork Roast
Braised Pork loin slices in a sauce lightly-flavored with Cinnamon, Lemon and Honey and Dried Plums
Lowfat Three Bean Chili with Turkey
Ground Turkey Breast, Kidney Beans, Black Beans, Onions, Jalapenos, Garlic, and Tomatoes….YUMM!! Lowfat and filling.
Side Dishes:
Pineapple-Basil Rice
Rice with crushed Pineapple and fresh Basil
Mexican Corn
Corn and fresh Vegetables seasoned Mexican-Style
Lemon Buttered Broccoli
Broccoli Florets tossed with a very flavorful Lemon Zest & Browned Butter sauce
Interesting Vegetarian
Entrees:
Quinoa with Black Beans and Cilantro
A very flavorful and healthful grain dish with Black Beans, Quinoa, and Corn with Cumin
Seitan Ropa Vieja
Seitan in a flavorful Mexican sauce with Tomatoes, Red Wine, and a touch of Chocolate!
Barley Pilaf with Artichoke Hearts
A delicious and healthy Barley pilaf, flavored with Pesto and served with Chickpeas, Artichoke Hearts and Parmesan Cheese
Acorn Squash Stuffed with Forbidden Rice, Raisins, and Walnuts
Roasted Squash stuffed with Savory Black Rice, Celery, Carrots, Raisins, and Walnuts
Cashew Crusted Tofu
Cashew Crusted Tofu Cutlets, Marinated in Pineapple Juice
Side Dishes:
Oven Roasted Winter Vegetables
Rutabagas, Carrots, Onions and Yams roasted with fresh Garlic, Sage and Rosemary
Garlic Green Beans
Whole French Green Beans with Butter, sliced Garlic, and Parmesan Cheese
Pineapple-Basil Brown Rice
Steamed Brown Rice with crushed Pineapple and fresh Basil
Diet Friendly
Entrees:
Asian Stuffed Peppers
Red and Yellow Bell Peppers stuffed with a seasoned Turkey, Vegetable, and Rice mixture
Lowfat Three Bean Chili with Turkey
Ground Turkey Breast, Kidney Beans, Black Beans, Onions, Jalapenos, Garlic, and Tomatoes….YUMM!! Lowfat and filling.
Pork Tenderloin with Balsamic-Cranberry Sauce
Moist and Lean Pork Tenderloin Smothered in a flavorful Cranberry Sauce with fresh Rosemary and Balsamic Vinegar
Spiced Rubbed Fish with Horseradish Sauce
Tilapia baked with a spicy coating served with a fresh and cool Horseradish sauce
Thai Chicken with Basil Stir-Fry
Chicken brined in an authentic sauce, stir-fried with Broccoli, Carrots, and fresh Basil
Side Dishes:
Sauteed Asian Green Beans and Mushrooms
Sauteed Green Beans and Mushrooms seasoned Asian style with Soy Sauce, Sesame Oil, and Sesame Seeds
Baked Potato Spears
Sweet Potato spears seasoned with garlic and baked until golden brown.
Broccoli in Zesty Orange Sauce
Paleo Menu (gluten, dairy, and grain free)
Entrees:
Awesome Paleo Lasagna
Carnitas Tacos
Thai Chicken Meatballs
Favorite Paleo Meatloaf
Artichoke & Shallot Stuffed Chicken
Side Dishes:
Cauliflower Fried Rice
Cream of Tomato Soup
Garlic Green Beans
Frequently Asked Questions
How much does it cost?
My standard delivery is $500, and would last two adults 10 nights. The same package would last a single adult 20 nights. (single serving packaging is an additional $20 charge). I provide generous servings.
What if I have more than 2 adults in my family?
For larger families, I can prepare additional servings for $125 per person. For example, if you have 3 adults in your family, the total would be $550, and I would provide 30 servings (6 servings of each entrée and side dish) instead of 20. If you have 4 adults, the total would be $675, and I would provide 40 servings (8 servings of each entrée and side dish).
What is the packaging like?
I use very nice containers that are microwave and oven safe. They're made of paper and can be recycled. For large families, I use foil pans. Soups are delivered in plastic deli containers.
Can you accommodate special diets?
Absolutely! There is no additional charge for most diets such as low-fat, low-carb, low-sodium, Weight Watcher's, etc. Very specialized diets such as gluten free and renal diets may incur an additional fee to cover additional menu planning time.
Can you prepare my meals with organic ingredients?
For organic clients, I follow a different pricing format, as the cost of ingredients is higher than conventional ingredients. I charge a flat rate of $360 for labor and packaging. The costs of ingredients are billed separately.
Can you provide the nutritional information?
My recipe software calculates the nutritional content of each dish, so it's no problem to share this information.
How much freezer space will I need?
The standard service (in 2 serving containers) takes from ½ to 2/3 of the space in a normal freezer. If you will be having your meals packaged individually, a bit more space is needed.
Do you have gift certificates?
Yes. They make great gifts for new moms, new couples, people recovering from surgery at home, etc. You can purchase gift certificates through my website.
Do you accept credit cards?
Yes, I accept Visa, MasterCard, American Express, Discover, and Venmo.
Contact Chef Becky today for a customized menu and and estimate for personal chef meals – 541-510-0326